A behind-the-scenes eavesdrop on the private discussions about whether to allow forest clearcutting to be rewarded and encouraged under California's cap-and-trade program to reduce greenhouse-gas emissions.
Help us spread the word:
Click here for sugested comments.
Listen to the broadcast: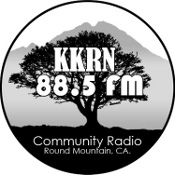 Forests Forever Executive Director Paul Hughes is special in-studio guest on the "Unspun Show" with host Doug Bennett on KKRN 88.5 FM Community Radio in Round Mountain, Calif. Broadcast in conjunction with the Forum for the Forest conference in Redding held on Feb. 11, 2012. Co-host Dr. Doug Craig, a blogger at Climate of Change as well as a clinical psychologist, makes the connections between logging, corporate influence and climate change.
Listen to the broadcast:


Listen to Forests Forever Executive Director Paul Hughes interviewed on KPFA 94.1 FM discussing the state Air Resources Board's decision to allow forest clearcutting as a means of capping CO2 emissions. Hughes also discusses devastating budget cuts to timber harvest inspections in California.
Our mission: To protect and enhance the forests and wildlife habitat of California through educational, legislative, and electoral activities.
©2014 Forests Forever. All Rights Reserved.