Large-scale "hack-and-squirt" herbicide use poses increased forest fire, environmental risks!
Forests Forever flyover of Mendocino Redwood Company industrial timber lands on July 22, 2015 to observe Hack 'n' Squirt forestry.
Mendocino Redwood Company (MRC) and its sister-company Humboldt Redwood Company (HRC) currently are practicing a method of forestry called 'hack and squirt' to poison tree species such as tanoak. This procedure uses a non-selective broad-spectrum herbicide called Imazapyr -- applied by cutting around the base of a tree and spraying into the open wound.
MRC and HRC have applied herbicides to over 100,000 acres of their ownerships since 1999, or roughly one fourth of their total holdings. Since 2012 alone, MRC has killed over 5 million trees on 24,000 acres!
Although tanoaks play an important ecological role in forest succession and recovery, the companies are using hack-and-squirt eradication because it is the cheapest way to get rid of less-marketable tree species that may compete with the more-profitable redwood or Douglas-fir.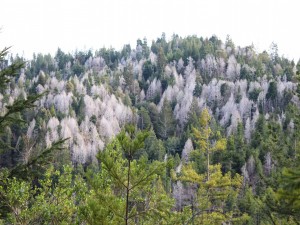 http://deadforests.org/galleryphotos/larsen.jpg
But research indicates increased fire intensity is one result of leaving standing dead trees on the landscape! The dead trees thereby pose a risk to firefighters and nearby residents and communities. The use of these toxins also may pose threats to water quality and wildlife.
Forest Forever has teamed up to support a group of local activists in Mendocino County to get an initiative on the ballot for June 2016 that would declare the leaving of dead standing trees a public nuisance and make the person or persons responsible liable for the hazard.
IF YOU ARE A MENDOCINO RESIDENT AND YOU WANT TO HELP HERE'S WHAT YOU CAN DO:
Vote in favor of the citizens initiative "Shall the People of Mendocino County Declare Intentionally Killed and Left Standing Trees a Public Nuisance?" on the June 2016 primary ballot.
Get friends and family to sign the petition! Locations to sign and copies of the petition can be found at:
Contact Forests Forever (below) to volunteer to collect signatures or otherwise help the campaign as needed.
FORESTS FOREVER has teamed up with local activists to pass this ballot measure aimed at protecting fast-disappearing oak woodlands in Napa County!


If you are a registered California voter you can help us gather the signatures need!
Click here if you want to help.
Help us spread the word:
Listen to the broadcast: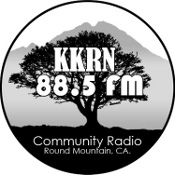 Forests Forever Executive Director Paul Hughes is special in-studio guest on the "Unspun Show" with host Doug Bennett on KKRN 88.5 FM Community Radio in Round Mountain, Calif. Broadcast in conjunction with the Forum for the Forest conference in Redding held on Feb. 11, 2012. Co-host Dr. Doug Craig, a blogger at Climate of Change as well as a clinical psychologist, makes the connections between logging, corporate influence and climate change.
Listen to the broadcast:


Listen to Forests Forever Executive Director Paul Hughes interviewed on KPFA 94.1 FM discussing the state Air Resources Board's decision to allow forest clearcutting as a means of capping CO2 emissions. Hughes also discusses devastating budget cuts to timber harvest inspections in California.
Impacts of Climate Change on California Forests
Global Climate Change
Forests and Climate Change
Clearcutters Hop on Cap-and-Trade Program
Our mission: To protect and enhance the forests and wildlife habitat of California through educational, legislative, and electoral activities.
©2014 Forests Forever. All Rights Reserved.