A Sierra Nevada watershed.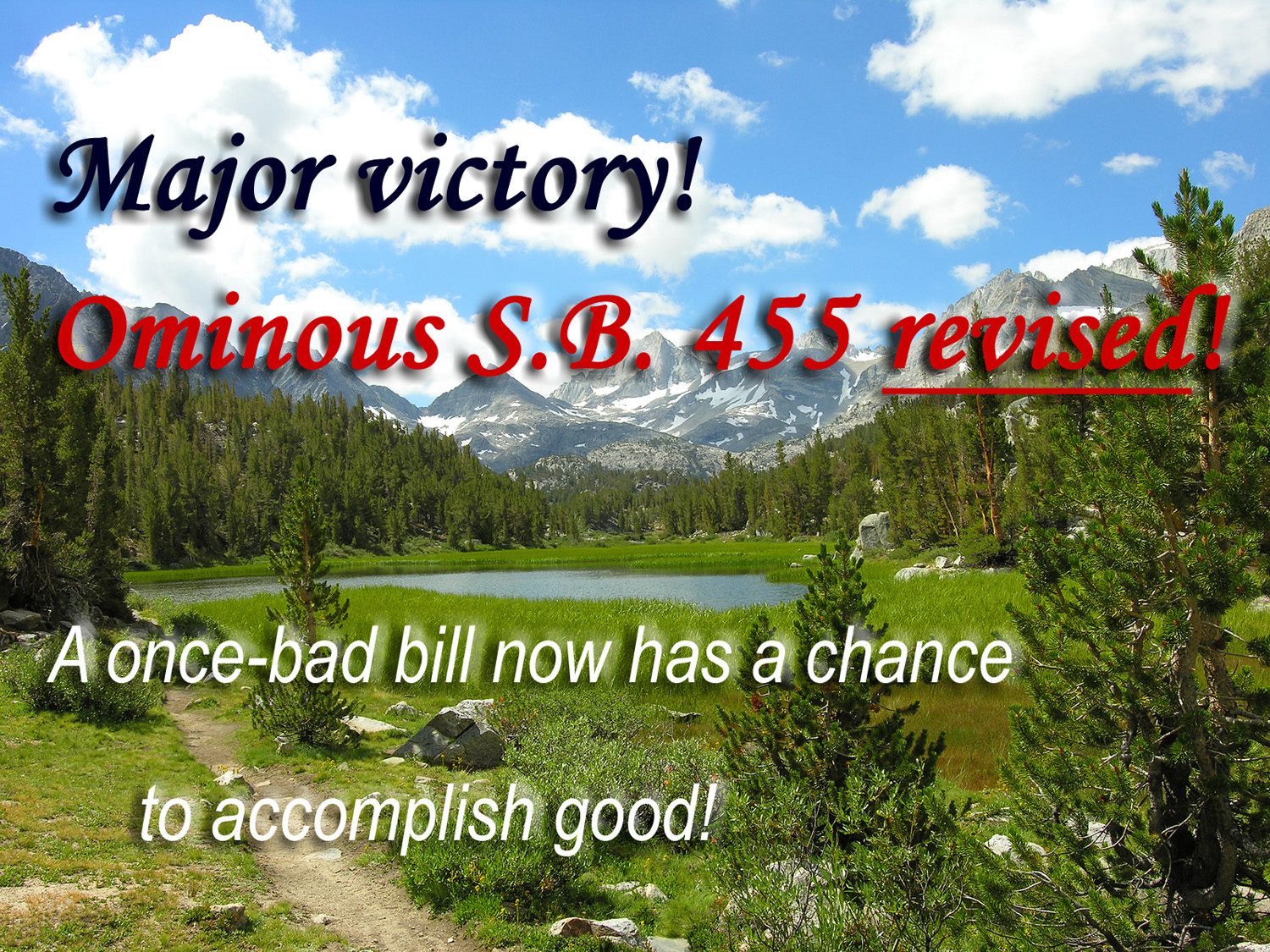 Your contribution helps protect California's forests!

Forests Forever scored a major win recently when supporters of Senate Bill 455 struck out all of its language proposing vast, new "Watershed Timber Harvest Plans" (WTHPs).
"We're pleased that the bill is now moving forward without the provisions that caused us so much concern," said Forests Forever Executive Director Paul Hughes.  "All of the many Forests Forever supporters who spoke out and wrote letters on this issue—give yourselves a huge pat on the back!  You enabled us to stop a really bad idea in its tracks."
Of the many forest-advocacy groups on record opposing the bill Forests Forever was the only one campaigning, with all its resources, for a "No" vote on S.B. 455 in its previous form.  Our Field Canvass generated nearly 1000 letters on the bill over the months leading up to June 11, when the favorable amendments took place.  At the same time our Phone Canvass generated that many more commitments to write, call, or fax. 
The bill's WTHP provisions were too sweeping in scope and scale, effectively reducing oversight by underfunded agencies on logging activities for periods of 20 years per plan.  The bill was laden with vague, meaningless, and unenforceable environmental provisions and would have created logging plans of 100,000 acres or more.
With these troublesome WTHP provisions stripped from S.B. 455, the bill now focuses solely on timberland conversion mitigation provisions, an area in which a favorable consensus exists within the environmental community.
We invite forest advocates to thank Sen. Fran Pavley, the bill's author, for doing the right thing, as well as her long track record of excellent environmental leadership.
---
Read our recent letter to Sen. Fran Pavley in opposition to SB 455 here!
Read Forests Forever Executive Director Paul Hughes' recent commentary in the

Listen to Forests Forever Executive Director Paul Hughes' interview on the "Unspun" show on KKRN 88.5 FM Community Radio in Round Mountain, Calif. Broadcast in conjunction with the Forum for the Forests conference held in Redding on Feb. 11, 2012.
Please make a generous donation today!

©2021 Forests Forever. All Rights Reserved.