With courts split, Vilsack acts to preserve Roadless Rule Agriculture Secretary extends protection for another year

While federal courts continue to wrangle over the legality of the Clinton-era Roadless Rule governing national forests, the Ob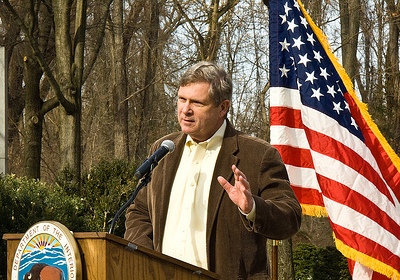 ama administration in May acted once again to safeguard the nation's inventoried roadless areas.

On May 28, Agriculture Secretary Tom Vilsack (pictured at right) issued an interim directive preserving roadless area protections for one more year.

"While the courts continue to wrestle with roadless policy," Vilsack said, "I will continue to work to ensure we protect roadless areas on our national forests."

The initial rule protected some 58 million acres of mostly forested roadless areas on federal lands — including 4.1 million acres of national forests in California — from logging, mining, development and road building.

Last summer the 9th Circuit Court of Appeals upheld the 2001 Roadless Rule. The Rule currently is under appeal in the 10th Circuit. A decision on that case could come any day.

"Renewing this directive reflects President Obama's commitment to protecting our forests by ensuring that all projects in roadless areas receive a higher level of scrutiny," Vilsack said.

The Roadless Rule was promulgated during the Clinton administration. At that time, in 2001, Forests Forever helped generate an outpouring of public comment in favor of the rule as it was being developed. Based on the number of public comments it was the most popular federal rule ever developed.

Forests Forever later signed on as one of 20 co-plaintiffs in a federal district court case that in 2006 overturned the Bush administration's repeal of the program.

Vilsack's recent directive provides decision-making authority to the Secretary over proposed forest management or road construction projects in inventoried roadless areas. In light of the 10th Circuit's case, this directive ensures a consistent national review of all proposed projects.

The directive does not require secretarial approval for activities such as emergency fire-fighting activities, and small-diameter timber cutting to improve endangered species habitat and to reduce risk of catastrophic wildlfire. These activities also were exempted under the previous interim directive and are consistent with the 2001 Roadless Rule.


©2019 Forests Forever. All Rights Reserved.