Now is the time to push for true logging reform!
Public meeting on Dec. 19 is your chance to speak out!
Pro-forest activists, the time has come to be heard in Sacramento!
The California Natural Resources Agency will be holding an important public hearing in Sacramento on Dec. 19 to provide an update on the implementation of landmark A.B. 1492.
We strongly encourage all those who can attend the meeting in person to do so! Those who cannot attend in person: Please participate via live web conference or teleconference.
A.B. 1492, enacted in 2012, provided the intent to undertake woefully overdue reform of logging practices in California. Even more startling, the measure also provided the funding to accomplish these goals.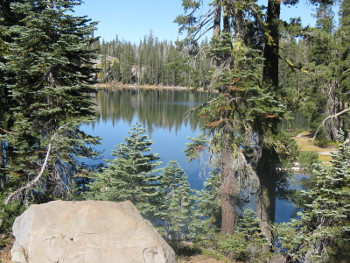 But even though it is paying the bill for this once-in-a-lifetime reform opportunity, the public is being denied the transparency and participation it needs to fulfill its proper oversight role and prevent the process from being captured by Big Timber!
For detailed meeting information visit our letters page. Written comments are being accepted through Jan. 5, 2015.
This public meeting provides a rare opportunity to have your voice heard on urgent forest issues, including the establishment of pilot projects designed to determine baseline conditions on California's nonfederal timberlands—the vital first step toward setting improved environmental performance standards! Through its steady advocacy for "foundational" pilot projects—and with your invaluable help—Forests Forever has helped get one pilot project drawn into the plans for reform. This is a nice start, but not enough.
The sooner the projects and forestry reforms are in place, the sooner fish, wildlife and forest communities will rebound from having taken a pounding for decades!
Forests Forever spent 2014 locked in a momentous struggle to fully realize what is our latest—and could be our last—great opportunity to thoroughly overhaul California's broken system that regulates logging practices.
On Dec. 19 Paul Hughes, Forests Forever Executive Director, kicked off the public comments for the implementation of A.B. 1492 at a public meeting in Sacramento. Listen below (comments begin at 44:45)
We made great headway in playing a leading role in this ongoing effort. Click here to read more about it. Thanks to all our members who attended! And thanks to the many thousands more for your supporte in this vital fight to protect California's forests!
©2023 Forests Forever. All Rights Reserved.