Board of Forestry candidates Gary Patton (left) and Jeff Shellito (right) combine forestry expertise with extensive experience in the state capitol.
Forests Forever endorses
   Board of Forestry candidates
Gary Patton and Jeff Shellito
    are our top picks for BOF public seats
As part of its multi-pronged approach to reforming forestry practices in California, Forests Forever recently announced its support for highly qualified candidates to fill two open public-member seats on the state's Board of Forestry (BOF).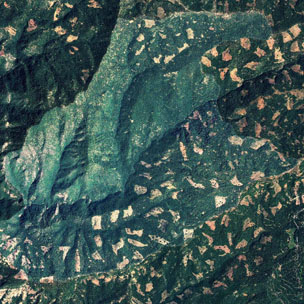 Candidates for these positions need letters and calls of support from Forests Forever supporters! Please see the Action Item below to help strengthen the general public's voice on the BOF.

Forests Forever's two endorsees for the seats are Gary Patton and Jeff Shellito, each of whom boasts impressive credentials in forest policy and extensive experience in the Capitol.

At the same time, Forests Forever opposes the appointment of Mark Stanley to one of the BOF's public seats, primarily because of his long career working within and in conjunction with the California Dept. of Forestry (CDF), an agency that has always exhibited a bias toward timber production over environmental protection.

The BOF oversees the CDF and its staff, which develops and administers regulations governing logging in the state.

The nine-member BOF is composed of five members of the general public, three members with connections to the forest-products industry, and one member from the range-livestock industry. All are appointed by the governor.


GARY PATTON

Patton's credentials are ideal for a BOF public-member seat. He currently serves as counsel to the environmental and public-agency law firm of Wittwer & Parkin, LLP, in Santa Cruz.

Patton also has a distinguished record as a long-time board member of the Planning and Conservation League (PCL), which lobbies on behalf of the environment in the California State Capitol. He also worked for PCL as General Counsel and Executive Director.

From 1998 to 2005, Patton served as Executive Director of LandWatch Monterey County, a nonprofit organization. Prior to that, Patton served 20 years — from 1975-1995 — as a Supervisor in Santa Cruz County.

A dedicated blogger, Patton writes extensively on land-use and environmental issues at


JEFF SHELLITO
Forests Forever's other top pick for a BOF public seat, Jeff Shellito, worked for more than 20 years for the California Legislature as a policy committee consultant on environmental and natural resource issues. From 1985 to 1995, Shellito was a principal consultant with the Assembly Natural Resources Committee and Assemblyman Byron D. Sher (D-Palo Alto), one of the legislature's most respected environmentalists.
Shellito then spent 10 years as a senior consultant for the state Senate, where he worked on forestry, fishery and mining policy.

From 2005 to 2009, Shellito was the government affairs manager for California Trout, which champions conservation and environmental restoration to improve fisheries and recreational opportunities.


WILL RUSSELL

In addition to Shellito and Patton, Forests Forever has indicated its support for Will Russell, Ph.D., for a public seat on the BOF. Like the other two "green" candidates, Russell demonstrates the skills and experience necessary to serve on the BOF, though in our view the backgrounds of Patton and Shellito are still stronger, especially given their long immersion in the advocacy environment of the Capitol.

Currently Russell serves as Assistant Professor/Graduate Coordinator for the Dept. of Environmental Studies at San Jose State University. From 2000-2004 he worked as an ecologist and project manager at the Western Ecological Research Station of the U.S. Geological Survey's Biological Resources Division. There Russell designed, managed, and secured funding for research on topics including erosion control in riparian vegetation amid coast redwood forests.


MARK STANLEY

Forests Forever opposes the appointment of Registered Professional Forester Mark Stanley to the BOF public seat primarily because of his long ties with the CDF and BOF.
Stanley began his career with the CDF in 1973, and most recently served the agency as chief deputy director, appointed by Gov. Arnold Schwarzenegger in 2005. He presently works with another state agency, the Sierra Nevada Conservancy, on forestry and biomass issues.

Such close associations with the state's forestry regulators are not consistent with a "public" member of the BOF, who rightfully should come from outside either the timber industry or the regulatory agencies that too-often tilt heavily toward resource extraction.
TAKE ACTION:
Letters, calls, faxes and emails in support of potential Board of Forestry members should be directed to top government officials in charge of making appointments to the BOF.
1.
First and foremost is
Gov. Jerry Brown
. Please contact his office today to express your support for Gary Patton and Jeff Shellito. Urge Brown to appoint them to the open public seats on the BOF. Let Brown know Patton and Shellito have the best qualifications to represent the general public's interests on the BOF. Also tell Brown not to appoint Stanley because of his close ties to the CDF and the BOF.
Governor Jerry Brown
State Capitol, Suite 1173
Sacramento, CA 95814
Phone: (916) 445-2841
Fax: (916) 558-3160
Attention: Mona Pasquil, appointments secretary (
mona.pasquil@gov.ca.gov
)
2.
Contact
Natural Resources Secretary John Laird
and let him know the BOF decision is important to you. Let him know you want want to see Patton and Shellito appointed to the public seats and to reject Stanley.
John Laird
Secretary for Natural Resources
California Natural Resources Agency
1416 Ninth Street, Suite 1311
Sacramento, CA 95814
(916) 653-5656
(916) 653-8102 fax
Email:
secretary@resources.ca.gov
3.
Let
Senate President Pro Tem Darrell Steinberg
know you care about who serves on the public seats of the BOF and urge him to help Patton's and Shellito's bids and oppose Stanley. Remind him that as Chair of the Senate Rules Committee, he holds the key to making BOF appointments, and that his choices ought to reflect what the public wants. Write, fax, call or email his office
Senate President Pro Tem Darrell Steinberg
Chair, Senate Rules Committee
State Capitol, Room 205
Sacramento, CA 95814
Phone: (916) 651-4006
Fax: (916) 323-2263
Attention: Kip Lipper, Senior consultant to Senate President Pro Tem Darrell Steinberg:
kip.lipper@sen.ca.gov
Letter Writing Tips
• Print your name and address under your signature.
• Make sure your letter is clearly legible and in your own words.
• Ask for a response in writing, informing you how they will address your concerns.
©2021 Forests Forever. All Rights Reserved.